Remed is a french artist known for his brightly-colored large-scale murals and canvas works. His style is instantly recognizable and uses strong shapes and visual images to draw the viewer in. I first discovered Remed in a book I was given for Christmas over three years ago. I remember being instantly intrigued by his unique, yet seemingly effortless style. Over the years I have continued to follow his work online as it's improved and become even more impressive. I was honored when given the chance to interview Remed to gain some insight into his background, daily inspirations, and current works. Although words could never do the art of Remed justice, please read the interview and enjoy his amazing work.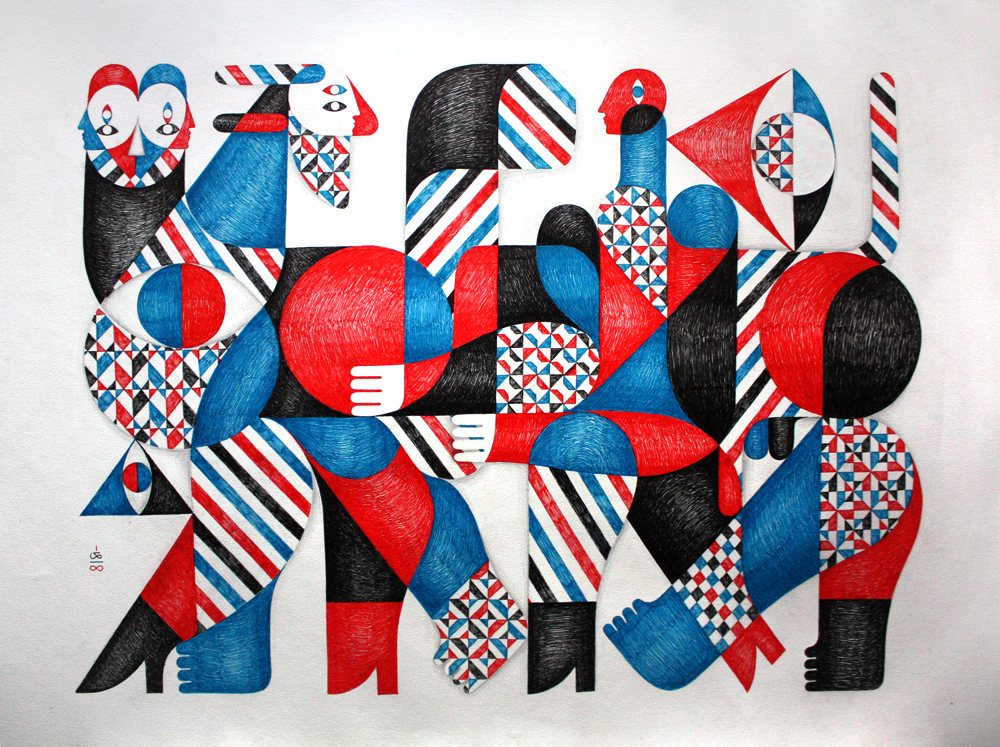 Greg Bemis: What is your name and age? Where are you from and were do you currently reside? What is your art background? When did you first start painting or making art?
REMED: My name is Guillaume ALBY aka REMED. I'm french and I live in Madrid.
I discovered the Art of painting in an atelier of my town, Lille, in 1995. I have long worked inside. I always liked the privacy and quiet of my room or studio.  However, I quickly felt the need to overcome the limits imposed by the framework, and also the desire to show my work. That's how I came to the street, that's why I started to interact with my environment by pasting stickers expressing my ideas and messages. Eventually, I had the chance to paint huge areas, often in special locations, being as aware as possible of the context in which my tracks will evolve.
Today, thanks to the experience of the street that led me to synthesize my creations, and because I've understood that the "viewer" does not give as much time as I dared to imagine to the observation of work, I've simplified the result of my work. This is so the viewer can actually feel something, being talked to, without my physical presence being necessary.
I make rhymes with colors, shapes and sounds to express emotion, feeling, or the evolution of thought. I paint as you write a diary, a notebook of inventions, or philosophical essay. Every time I make my self current situation. (mon état des lieux). Art is for me is the sincere blend of science and Soul. I live what I feel, I paint what I live.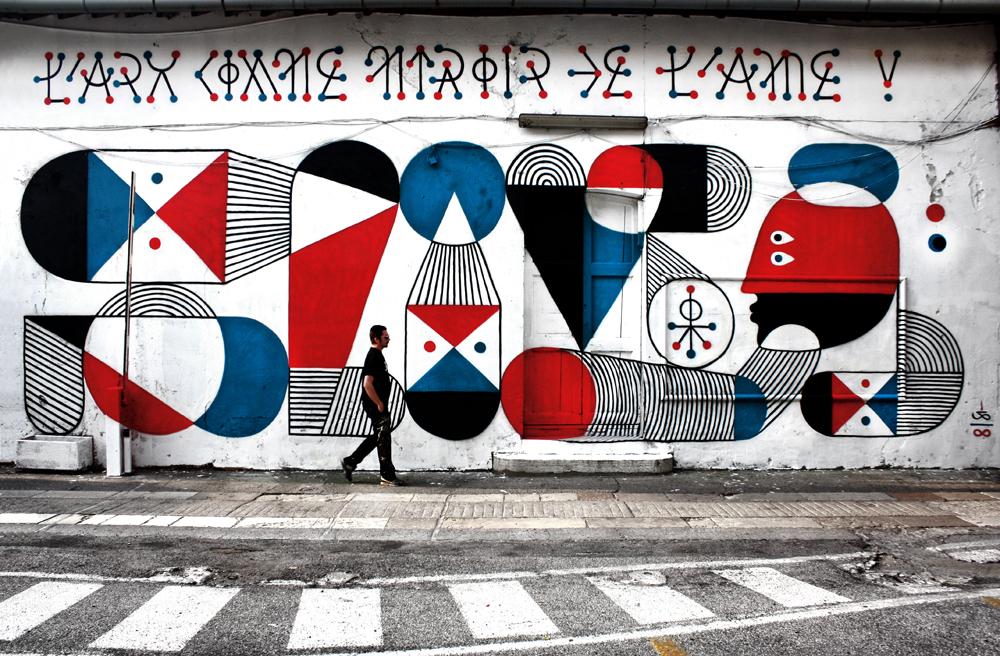 GB: Where do you draw the most inspiration from for your art? 
REMED: Most of my inspiration comes from what I feel, or live. I've always considered myself a witness.  Even though our lives may seem different, we all pass through the same cycles in life. I feel like an interpreter of the soul living in my body. I just try to tell my story in the most universal way.  I want people to be able to recognize themselves in my art.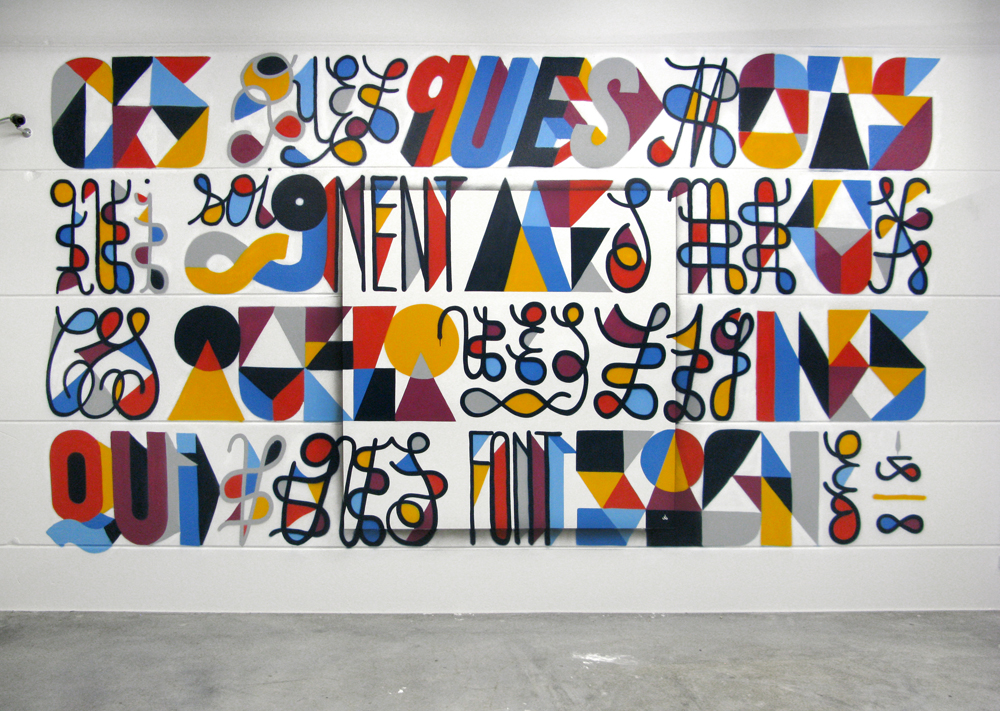 GB: Who are some of the artists past or present that you are inspired by?
REMED: About the form, the masters I most respect are Modigliani, Picasso, Fernand Leger, Matisse, Delonay, Wasser, Moore, Miro, Bosch…but also outsider art, especially Carlo Zinelli and Lesage, and eventually, graphic design, and graffiti. Concerning the writing, I've been influenced by rapping, oriental calligraphy, typography, tags and pixaçào.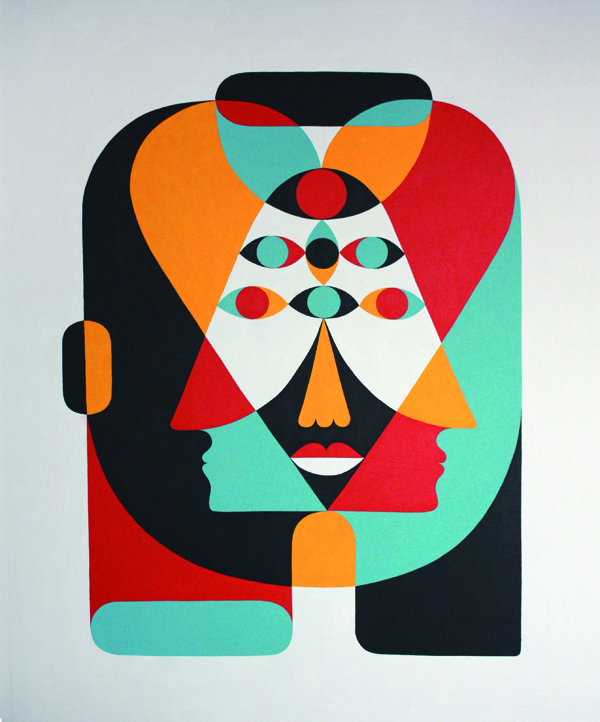 GB: How do you go about deciding what type of piece you want to paint on a large building or wall?  
REMED: If I have enough time, I usually try to learn about the story of the city and its citizens. I then find a way to recognize myself in that story. If that's not possible, I create something as positive and universal as possible.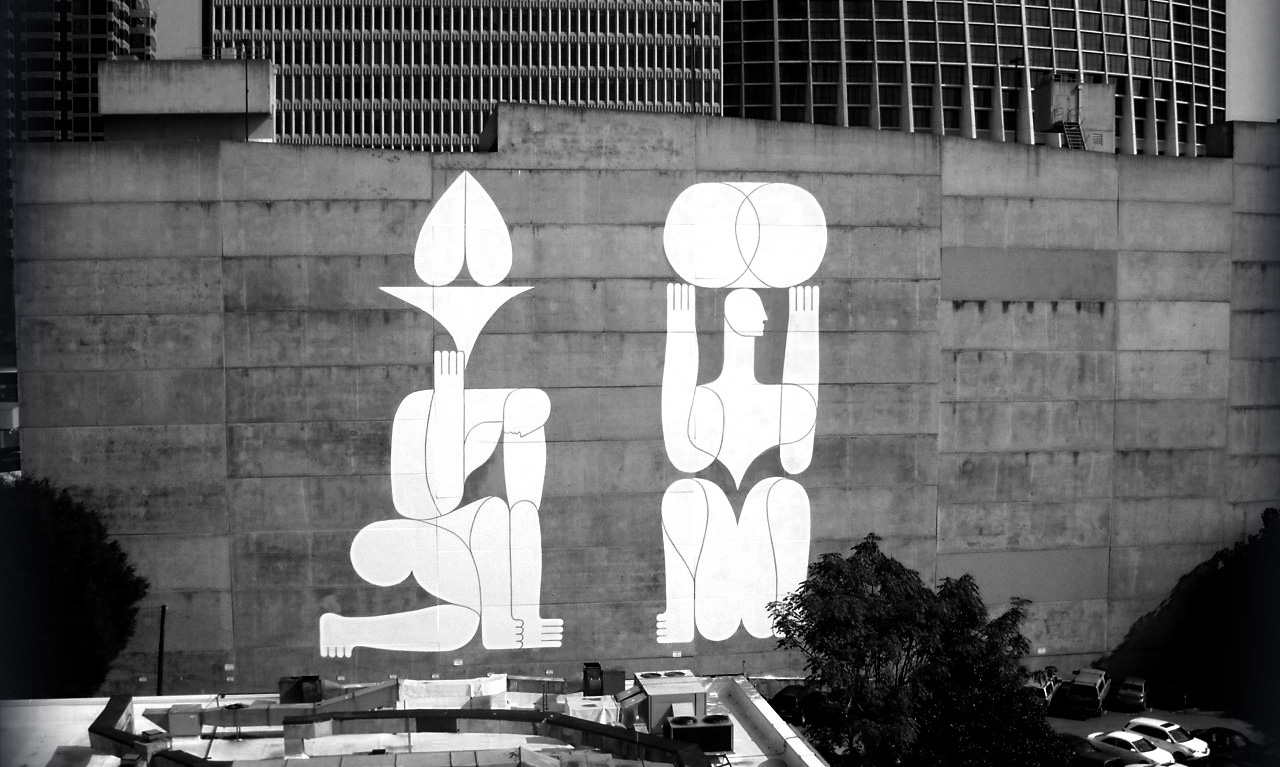 GB: What are some of the things you look for in a wall that you want to paint a large scale piece on?
REMED: As for my technique, I try to respect the inner beauty of the virgin wall when there is texture on it.  As for the composition, the game is more or less the same as working on canvas or paper. Because the proportion rate between the distance from where you look at a wall, and the one you look at a canvas from is similar.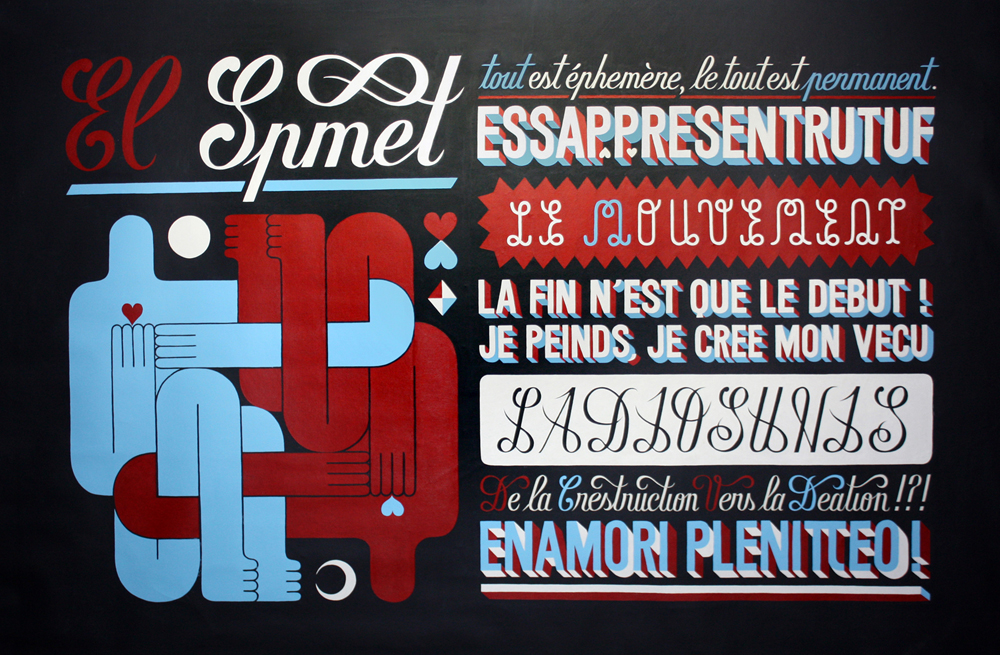 GB: Do you sketch out your ideas before you start painting or do you go straight from your head to canvas or wall?
REMED: I do my best to create something I would enjoy looking at everyday, so I usually make a few sketches before finding the right harmony. Sometimes the magic happens on the first try, but that's quite exceptional. Other times, my initial sketch becomes a final piece.
I am currently working on a metal engraving filled with words, characters and symbols. Each of them appears one after the other. I make a sketch for each element, but I leave space for an uncontrolled factor in the global composition that I discover while making it.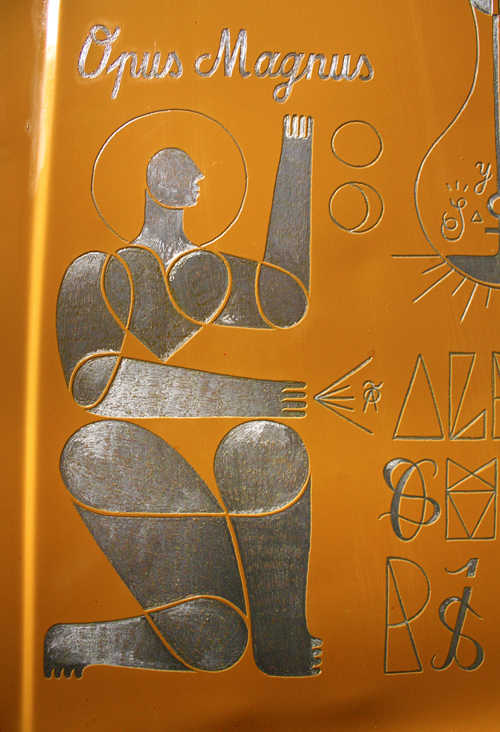 GB: How would you go about describing your art to someone who has never seen it?
REMED: A sincere blend of soul and science.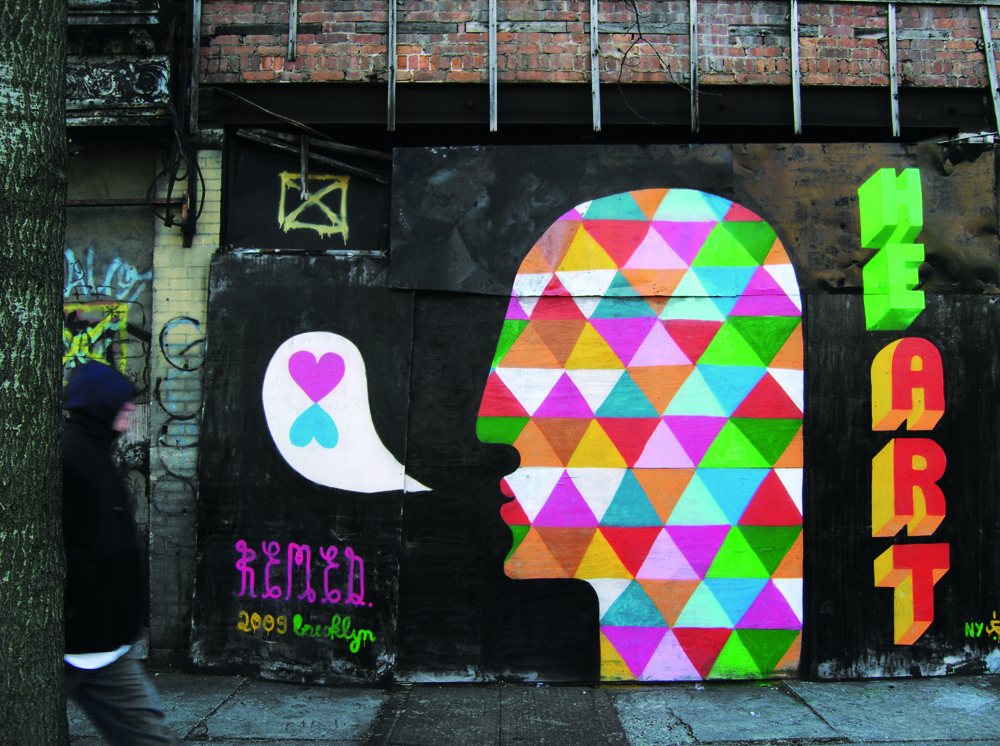 GB: What are some of your favorite things to do outside of making art?
REMED: Singing, talking about life, dancing and drinking with my friends. Sharing with my family. Longboard riding, swimming. Going to Morocco. Living.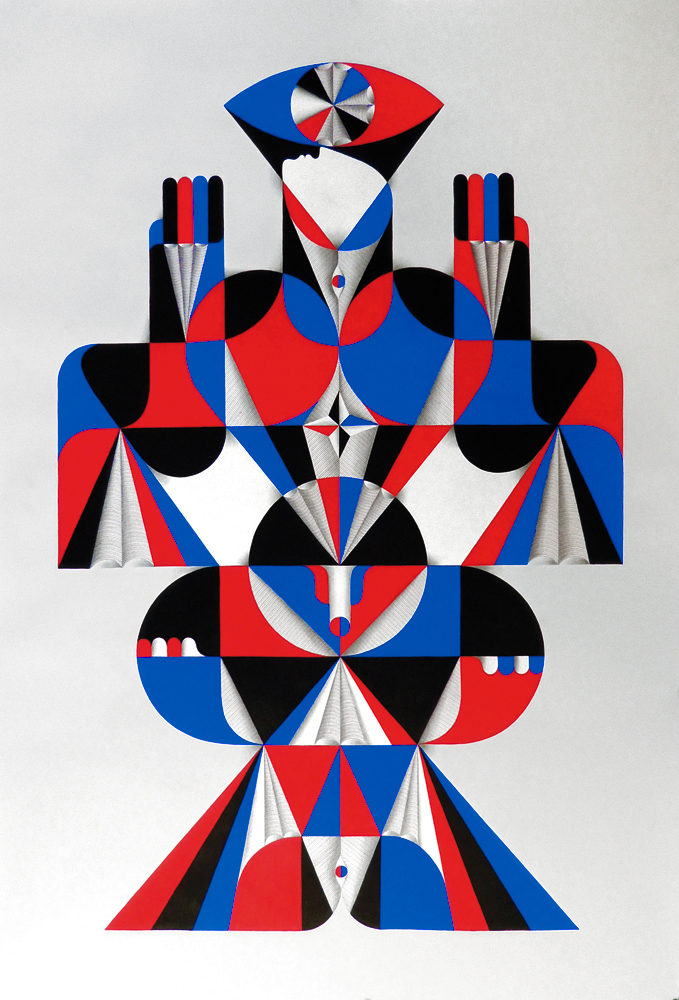 GB: Do you have any shows coming up or anything you would like to let the people know about?
REMED: Two collective shows in Madrid, one in the contemporary Art fair called Justmadrid. And one in IAM Gallery. Both in Spain, in February.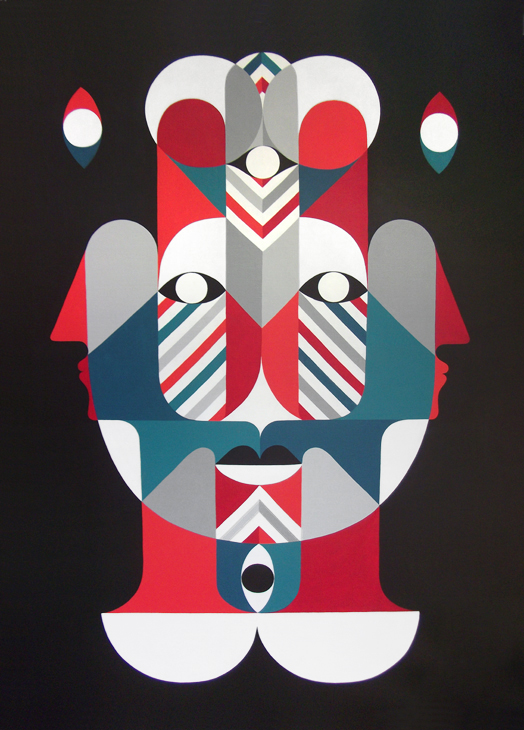 GB: Any parting words?
REMED: C R E E R    C R E A R   C R E C E R